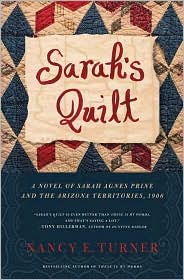 I had heard about this author from my friend Jamie, who had read her book "These is my Words". Since the RR library doesn't have that book, I settled for this one.
Sarah Prine is a woman living in the Arizona territories, raising cattle and family. The novel was decent, even if some of the twists and turns were a little weird. Turner put dates at the top of each suggestion, trying to make it more diary like; but, diaries usually aren't so well written (except this blog of course), descriptive, and full of dialogue. It was an unnecessary touch.
This book was alright. It took a good 50 pages to get into it, and then it was kind of slow reading until the end. Maybe you'll like it better than I did.